Welcome to Manukau Toyota
We look after Manukau, Botany and Airport
Six-time Service Dealer of the Year – we look after our customers, and our staff."
What makes Manukau Toyota so special?
We're a diverse company with many different nationalities on our staff of over 100, working hard in the busy South Auckland area. We have a fantastic record of service (winning the Toyota New Zealand Service Dealer of the Year Awards six out of the last seven years), so we make sure that our staff have the highest levels of training and work in an atmosphere that allows them to be their best.
What we're looking for in a

Manukau

Toyota team member

We welcome job enquiries from anyone, particularly young people, who are mad about cars, understand what customer service is and can add value to our organisation.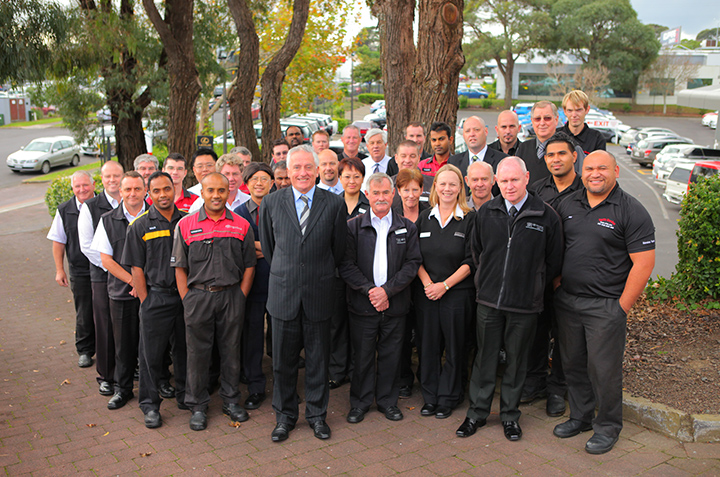 Toyota training for our staff
We're committed to supporting you in all training that helps you to become a higher-performing member of our team.
Many of our staff will be a part of Toyota New Zealand's technical and business training programmes – depending on your role within the dealership. That means we'll teach you all there is to know about Toyota products and business practices. As a Toyota team member you'll also be offered full, ongoing training support, which may include externally-sourced, specialised training, as well as access to one-on-one coaching from top trainers in the industry.
Opportunities for you
We're big on continued learning, and all our staff will receive further training – from apprenticeship programmes to sales and product knowledge training, or up-skilling on Microsoft and our in-house systems. We offer a career path for ambitious people and a thorough introduction into the Toyota Way. Working with us will equip you to be a very valuable member of any team.
Help us help the community. We're involved in:
Supporting local organisations that are trying to make a difference in our community. We've sponsored and supported many charities and sporting clubs over the years, from junior golf to providing vehicles for social workers in South Auckland.
You can check out Manukau Toyota's Community Page to see more.