Welcome to Counties Toyota
We look after Pukekohe and Takanini
Be a part of something great for the future."
What makes Counties Toyota so special?
Counties Toyota is located in the heart of rapidly growing cities – Pukekohe and Takanini. Working at Counties Toyota not only means being a part of the global Toyota team, but also joining a community with such a variety of ethnicities, passions and opportunities to experience.
What we're looking for in a Counties Toyota team member
What we want most in a Counties Toyota team member is someone with a passion for the work they do, who wants to represent the Toyota way proudly.
Our staff is made up of Kiwis from various ethnic backgrounds we always welcome diversity to the range of cultures we represent. We'll always employ people from our local community whenever we can.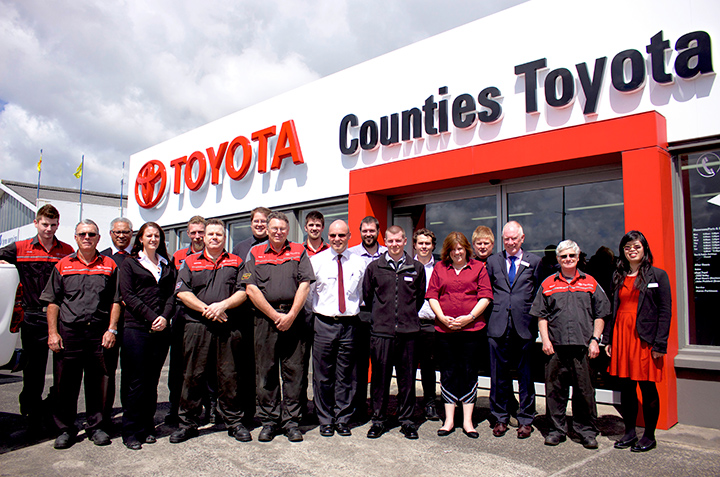 Toyota training for our staff
We're committed to supporting you in all training that helps you to become a higher-performing member of our team.
Many of our staff will be a part of Toyota New Zealand's technical and business training programmes – depending on your role within the dealership. That means we'll teach you all there is to know about Toyota products and business practices. As a Toyota team member you'll also be offered full, ongoing training support, which may include externally-sourced, specialised training, as well as access to one-on-one coaching from top trainers in the industry.
Opportunities for you
With five different departments within the dealership, there are multiple opportunities and career paths to take – and we try to promote from within where possible. We invest heavily in training for our staff, both with the initiative and opportunities available from Toyota New Zealand, and outside. That includes support our staff members to take on further learning with the Motor Industry Training Organisation (MITO), the training organisation for the motor, transport and logistics industries.
Help us help the community
We believe that giving to our community is a basic fundamental, so we get involved in heaps of community events, both sponsoring or hosting. You can check out Counties Toyota's Community Page to see more.
Some of the key initiatives we support include:
Safe 2 School by Auckland Council
Our free Car Care Clinics
Free fuel for the volunteers taking part in the Papakura Community Crimewatch Patrol