Welcome to Rangiora Toyota
We look after Rangiora, Kaiapoi and Ashburton
Being in the heart of Canterbury means you get to develop great long term relationships with Cantabrians!"
What makes Rangiora Toyota so special?
We're located in a buzzing area that continues to grow and where the locals enjoy a relaxed, community-based lifestyle.
Our team really enjoy working in our positive, friendly environment and building long-term relationships with our customers.
What we're looking for in a Rangiora Toyota team member
We're looking for people who like to take charge, work hard and who are ready to become a valued member of our team for the long term.
Toyota training for our staff
We're committed to supporting you in all training that helps you to become a higher-performing member of our team.
Many of our staff will be a part of Toyota New Zealand's technical and business training programmes – depending on your role within the dealership. That means we'll teach you all there is to know about Toyota products and business practices. As a Toyota team member you'll also be offered full, ongoing training support, which may include externally-sourced, specialised training, as well as access to one-on-one coaching from top trainers in the industry.
Opportunities for you
Besides the range of fantastic Toyota training opportunities mentioned above we are here to help you get up to speed or expand your skill set into the future – we have some great internal growth opportunities, as well as the ability to make inter-branch transfers.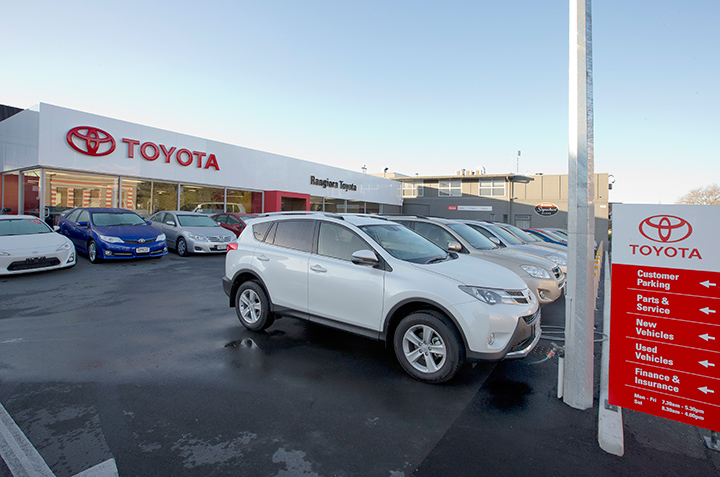 Help us help the community
We love to get involved in the local community, which you can read more about on our Community Page. Here are some of the things we support:
Rangiora Santa Parade (major sponsor)
Golf, bowls, A & P Shows and various other events
Toyota Young Rider
NZ Blood
Rangiora.com
AMI Sports & Fitness Centre
St John's Ambulance
The Ashburton, Rangiora and Kaiapoi Fire Brigades